August 12, 2014 in Baptism, Sheridan
I love being in the Relief Society Presidency of our ward.
The best part?  Not being the President!!  ;)
I am responsible for the Sunday meetings.
I make sure the teachers have the help and support they need.  On rare occasions it means I get to do a sudden impromptu lesson when a teacher is not being able to make it at the last minute.
The other Sunday after Sacrament Meeting I got a text from the teacher.  She had the flu!!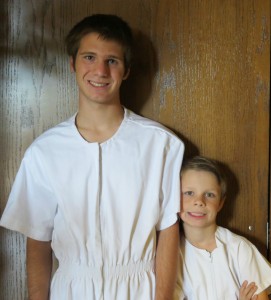 So I had 30 minutes to prepare a lesson.
Baptism Lesson
I do love to teach.  I also love to prepare, in some ways that is my favorite part of teaching. I learn so much when I am preparing and I feel the spirit.
The lesson was on baptism.  I started reading it and got excited.  The very first section referred to the symbolism between our birth in this life and our rebirth in baptism.  Well you know I love birth.
I looked up some blog posts on The Gift of Giving Life blog, and got the ideas and inspiration I needed to feel good going into the lesson.
However I still felt some hesitation.  Again, I usually practice my lessons at least 2 times before teaching.  No time for that!  So I prayed for help and got the impression that this was the chance to see the power of The Lord's hand, that He would give me what I need to speak, when I need to speak it.
My Notes
| | | |
| --- | --- | --- |
| | Birth | Baptism |
| 1 – Preparation | Do you think we prepared in the pre-mortal existence for our earthly birth?  Robyn said, "birth is the crowning event of pre-motal life" | Do we do things to prepare for our baptism?  Yes, we prepare or help our kids prepare. |
| 2 – Blessings | Body, Light of Christ, New Life, Family | Body is cleansed, Holy Ghost, New Life and New Church family |
| 3 – Water, Blood, Spirit | Amniotic Fluid, Blood, Our Spirit joining with our body.  Moses 6:59 Allowing them to bust forth from pre-motal state, bathed in pure water, life giving blood and the Spirit. | Water – BaptismBlood – Atoning Blood of ChristFire – Gift of the Holy Ghost |
| 4 – Who with? | Mother | (typically) Father |
| 5 – Choice | We chose to come to earth.  Imagine we made covenants before we came to earth in this "ordinance" of birth | We choose to get baptized.  Make a covenant in the ordinance. |
| 6 – Sacrifice | Requires Sacrifice of Mother to birth her baby. | Requires Sacrifice of Savior |
| | | |
Baptism and Birth can be Spiritual
I then talked about how when we set our intentions, we can see the spirituality in everything.  I also shared the experience I had at T3′s baptism.
I think that it went pretty well.  I was glad to have all the participation from the Sisters and of course having been about birth, made it easy!